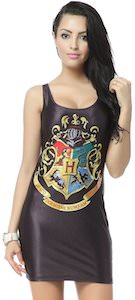 A Harry Potter fan of course would love to own a special dress based on the story of this amazing wizard.
Now there is this black dress that shows the Hogwarts crest and if the School of Witchcraft and Wizardry can have a dress then it has to be amazing.
This Harry Potter dress is a tank to style dress and that means no sleeves and it is fitting and short.
A dress like this is perfect for your Harry Potter party or maybe even for Halloween.
You will surely look like a sexy wizard while wearing this dress.
Come take a better look at this Harry Potter Hogwarts Logo Tank Top Dress.