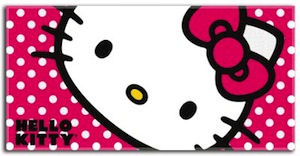 Why would you get a boring plain colored towel when you can get something way more fun?
This Hello Kitty beach towel is one of those fun towels.
And this towel is 30 x 60 inch a great size for the beach or a bath and it is made from 100% cotton making it super soft to and machine washable.
The towel is pink and is covered with white polka dots and in one corner it says "Hello Kitty" and in the middle there is a huge picture of Hello Kitty's face.
If you like Hello Kitty and need a towel then don't even think just order this Hello Kitty Polka Dots Towel.