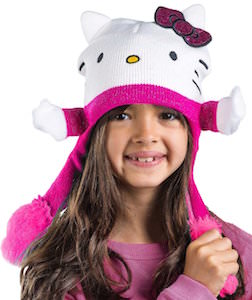 This beanie hat is one every kid wants because it have moving hands.
The Hello Kitty beanie hat is special and looks like Hello Kitty and this kitty has arms that flap out if you push the pink puffy end just like the girls is doing on the picture.
A hat like this will be so much fun for kids that now you don't have to beg them to wear their winter hat and of course it looks like Hello Kitty and that makes it fun on it's own.
Come and get ready for the cold spell with this Hello Kitty Beanie Hat.