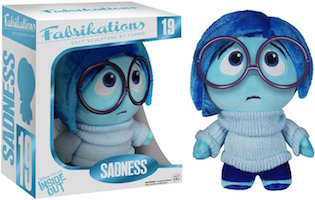 We all feel blue once in a while and most times it's this character in your head making you feel like that.
Now you can have your own Sadness plush figure from the movie Inside Out.
This plush figure of Sadness is not a kids toy it's rate at ages 14+ so more a super cute and soft collectible.
Sadness is 6 inch tall and just super cute even though she looks so sad and blue. And this Fabrikations figurine comes in a nice window box so that it can stay in it's own house without having to get dirty if you like that.
So now is the time to get your Inside Out Sadness Fabrikations Plush.