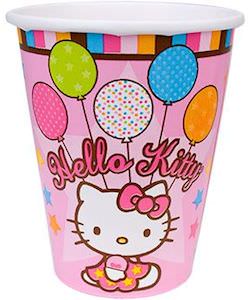 A Hello Kitty birthday party of course needs fun cups.
And now you can have Hello Kitty paper cups that are pink and have fun colored balloons on it besides of course a picture of Hello Kitty and her name.
These party cups come in a pack of 8 and offer the space 9 ounce of your favorite party drink.
Just imagine the party table with these fun pink Hello Kitty cups standing there waiting to be used.
And as these party cups come in a pack of 8 you will be ready for a small Hello Kitty party and I am sure the kids still love these cups after the party is long over.
Come and get ready for the Hello Kitty party by ordering these Hello Kitty Paper Cups.