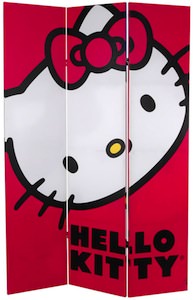 Why have a boring folding screen as room divider when you can have Hello Kitty to divide the room.
This screen is 6 feet tall and shows a picture of Hello Kitty on each side and her name "Hello Kitty" one side of this folding screen has a red background and the other side has a blue background. Both are great and click on the picture above to see the other pictures of this screen.
The Hello Kitty folding screen has 3 panels that together become and amazing divider.
It is almost like a giant poster but with the added benefit that it can divide or hide parts of a room.
If you like Hello Kitty then you should check out this Hello Kitty Folding Screen.