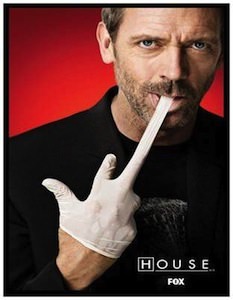 If you enjoyed House as much as I did then you definitly want this magnet.
On this magnet you see Doctor Gregory House taking of his glove but it also kind of looks like he is giving you the finger.
And that of course is something House would do.
The magnet is 5 1/2 x 4 1/4 inch and made out of a  heavy magnetic vinyl and that makes it perfect for any metal surface.
I would put it on the frige but nobody is stopping you if you put it on your car.
So time to come and get your House Giving The Finger Magnet.