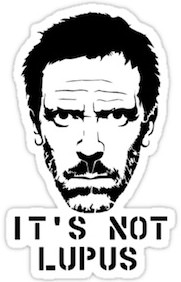 There we have it, Doctor Gregory House as a sticker.
It's just his face but the expression on it just tells the whole story. And below his face it says "It's Not Lupus" just like we heard a few times in the TV show.
The House sticker is die cut and that means that it's not square but just like the grey lines in the picture.
It will look great on your laptop, fridge, car or maybe you notebook.
The sticker is easy to apply and can be removed without damage if needed and it even survives the outdoors.
If you like House then come get this Dr. Gregory House It's Not Lupus Sticker.