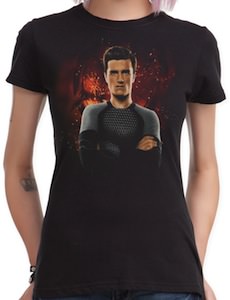 This black t-shirt shows Peeta Mellark ready for another time going into the Hunger Games.
His new Catching Fire costume makes him look almost like a superhero.
And as you can see Peeta is standing in front of a Mockingjay on fire.
This girls t-shirt is made from 100% preshrunk cotton and it is available in sizes X-Small – X-Large and that are junior sizes.
Did you find the perfect clothes yet to wear when you go see the newest Hunger Games movie?
I am sure you gone love this t-shirt but maybe you should have a closer look at this The Hunger Games Peeta Women's T-Shirt.