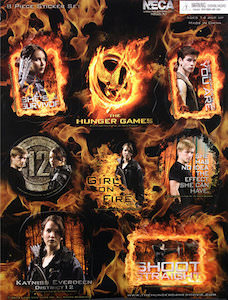 Are you looking for the perfect Hunger Games stickers?
This sheet shows a lot you may want. Gale, Peeta, Mockingjay and Katniss are all there together with quotes from the movies.
A sticker sheet like this can be hard to find and that makes it special.
And each Hunger Games sticker sheet has 8 stickers so that you have plenty to decorate with.
Books, binder, planners, walls or what ever you can think of all could use a sticker like this.
Being the coolest movie series out there you of course would like to own a set of these stickers. So lets not wait any longer just come and get your The Hunger Games Quotations Sticker Set.