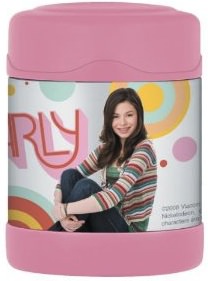 Of course you want your kids to eat healthy when away and how do you make that fun for them?
Easy get them a FUNtainer like this one with iCarly on it. The FUNtainer is made by Thermos and all the plastic parts are BPA free and the inside is stainless steel.
The best thing is that it will keep the food stored in it cold for up to 7 hours and hot for up to 5. So now you kid can eat the good foods you give it at the temperature that is ready to eat.
iCarly is has her picture on this FUNtainer and the pink plastic parts will make it the ideal girls lunch container.
Have a better look at this iCarly FUNtainer.