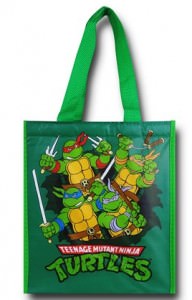 Looking for that new tote to take to the grocery store? Well this will satisfy your craving for food and the Teenage Mutant Ninja Turtles.
This insulated tote is so bright green. On the front of the reusable tote is your favorite ninja team of turtles. Donatello, Raphael, Leonardo and Michelangelo are bursting out of your tote and are ready to take down Shredder and his evil doers. It also has the TMNT logo so everyone will know your favorite foursome.
The TMNT tote measures 9 inches by 10 inches  by 5 inches and is insulated to keep your cold things cold until you get home. I bet it even works on your warm things too. It has a velcro closure to keep things secure and don't forget the stylish handles for easy transport.
Keep things so cool with your Insulated Reusable Teenage Mutant Ninja Turtles Tote.