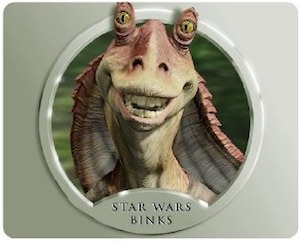 Jar Jar Binks is probably not the first character you think of when you think about the Star Wars movies.
But you have to admit that this fun creature is an important part of the movies.
If you like the fun Jar Jar Binks then maybe you should think about getting this Star Wars mousepad.
The mousepad feels almost like it is in 3D but i assure you it is a flat so you mouse will not get stuck on Jar Jar's eyes.
Time to get your desk ready for Star Wars with this Star Wars Jar Jar Binks Mousepad.