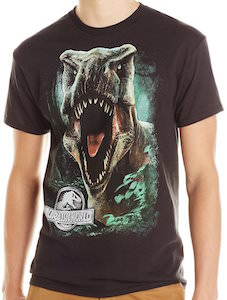 Jurassic World broke all the box office records and I think it all because of this amazing looking dinosaur.
On this black t-shirt you can see a big image of a roaring dino and besides that it also shows the Jurassic World logo so that you know your t-shirt has the most amazing dinosaur on it.
This Jurassic World t-shirt is made from 100% cotton and comes in men's sizes Small – 2XL.
Just imagine wearing this t-shirt when you have a  bad day, you don't have to scream at people as the dinosaur will do that for you.
Don't wait any longer just order your Jurassic World Roaring Dinosaur T-Shirt.