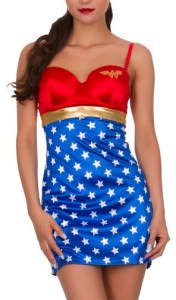 The chemise is perfect as a lingere pajama, a slip or a risque sexy dress.
This chemise features the famous colors of DC Comics superhero Wonder Woman, find a red bra top with a gold rhinestone Wonder Woman logo on the chest and the bottom portion is all blue with white stars. The blue and red colors are seperated by a gold attached belt.
Made to be sleek and sexy as lingere this chemise is made from a perfect blend of materials 92% polyester and 8% spandex giving it stretch, durability and comfort.
It is available in women's sizes Small, Medium and Large and has adjustable spaghetti straps so you get the perfect fit.
Look great in the DC Comics Wonder Woman Stretch Chemise.