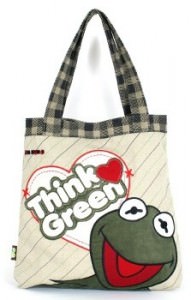 Think Green, weather it's green for Kermit the Frog or Save the planet green with this tote bag you can think both.
Start thinking green when using this bag for you everyday shopping.
A really nice tote bag that features Kermit the Frog a popular Muppet from television shows like The Muppet Show and The Muppets movie. You can find Kermit on the front with a big friendly smile and the saying "Think Green" along side him.
Made from very durable canvas, this tote bag  is lined with extra canvas material on the inside with a fun checkered pattern. Double canvas handles with 10 inch drop and the inside of the bag measures 16″ H x 15″ W. You can also find an inner zipper pocket and the main inside pouch closes with a magnetic snap.
Go green with your Kermit The Frog Think Green Tote Bag.