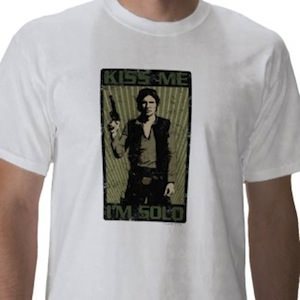 Star Wars fans will enjoy this t-shirt.
This t-shirt shows a picture of Han Solo and it has the text with it saying "kiss me i'm solo".
Not only is this funny it could also be an effective pickup line for the single Star Wars geek.
This Star Wars t-shirt comes in a bucn of colors and styles for men and women.
So if you are looking for a kiss then try this Star Wars Kiss Me I'm Solo T-Shirt.
SORRY BUT THIS ITEM IS NOT LONGER AVAILABLE.