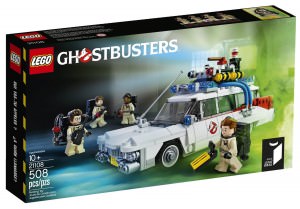 The Ghostbusters have now teamed up with the classic building blocks that everyone loves LEGO, you can re-enact your favorite ghost busting scenes with this LEGO set.
Featured in this LEGO play set is ECTO-1 the classic car from the Ghostbusters movie, it is all white with the red Ghostbusters logo and includes many accessories like paranormal detection equipment, removable roof, tracking computer and there is seats for 3 of the minifigures.
Not only do you get the LEGO ECTO-1 you also get 4 minifigures of Peter Venkman, Ray Stantz, Egon Spengler and Winston Zeddemore each coming with a proton pack and also included is an exclusive Ghostbusters booklet.
Build, play and collect the LEGO Ghostbusters ECTO-1 And 4 Minifigures.