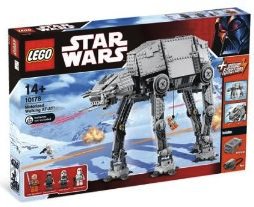 This item will give you hours of fun. A great addition to your LEGO or Star Wars collection.
LEGO designed the AT-AT as seen in the Star Wars movie and this one really walks and moves it's head. Can you imagine how much fun it is to see the AT-AT walking through you living room?
And this LEGO piece is not small either, it stands 12″ tall and 14″ long so it is a desent size. With the included Star Wars mini figures it will give hours and hours of fun.
Check out the LEGO Star Wars AT-AT.