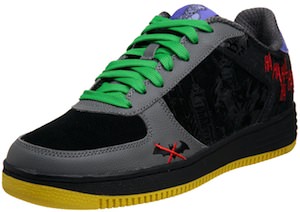 Batman fans let me start by saying the picture above is not a good representer of these amazing The Joker shoes. Please click on the picture to see more and closeup shots of these limited edition The Joker sneakers.
So now lets talk about these shoes.
This is a limited edition shoes based on The Joker and only 1940 pairs are made as a memory to the first year The Joker appeared in the Batman comics.
A Batman fan is gone be blown away of the special details in these shoes.On the sides of the shoes in the leather there are whole Batman scenes to be found and on the grey leather you can see the Batman logo with a red cross through it and more to the back you see in red the laughing of The Joker.
Then there are the green shoes laces and The Purple back part with The Joker on it.
Special shoes like this are made by a company that only does special and these The Joker shoes are made my Limited Soles. Each pair of shoes is individually numberd and comes in a real special shoebox witch is a collectors item on it self.
You can get these shoes in men's size 7 – 13 but only while supplies last.
Only a real Batman fan can appreciate shoes like this so if you are then come check out these amazing Limited Soles The Joker Court Sneakers.