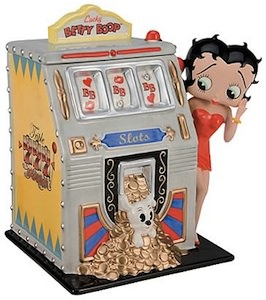 Lucky Betty Boop. This Cookie Jar is shaped as a slot machine with lots of coins coming out and look there is Pudgy to.
Betty stands next to the machine looking suprised by the winnings.
But what can you win? I guess that all depends in what you put in to this limited edition cookie jar.
This Betty Boop cookie jar is one of those special items that a real collector wants. It's hand painted and numbered so this is a special Betty Boop item.
But of course you can also just use it to store you cookies.
Go have a look for your self and see this Lucky Betty Boop Cookie Jar.