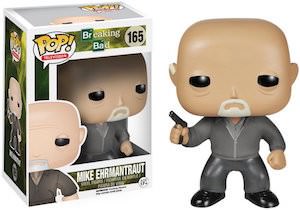 We all know Mike from Breaking Bad and Better Call Saul this ex police office can now be part of your life.
OK not the real Mike Ehrmantraut but a fun vinyl figurine made by Funko in their Pop! Vinyl series. Mike is number 165 in the series and comes in a nice window box so that he can stay in new condition if you want and the box says all the details like that he is based on Breaking Bad and his name.
The figure of Mike is 3 3/4 inch tall and he has the typical facial expression we know from him and he is dress in grey holding a gun.
Make sure Mike Ehrmantraut becomes part of your Pop! Vinyl collection by order this Better Call Saul Mike Ehrmantraut Pop! Vinyl Figurine.