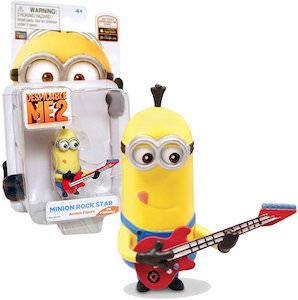 Of course you like Minions and now there is one you can own that likes being a rockstar.
This is a Minion action figure that is about 2 inch tall and brought it's own guitar .
And as it is an action figure the Minion can move it's arms making it fun to play with for kids. But this Minion is advised for kids above 3 years old.
Besides kids adult will love to own this Despicable Me character as it's loveable and cute and just a great collectors item.
And besides fun for yourself this Minion could be a fun gift for a guitar playing friend to.
Come take a closer look at this Despicable Me Minion Guitar Rockstar Action Figure.