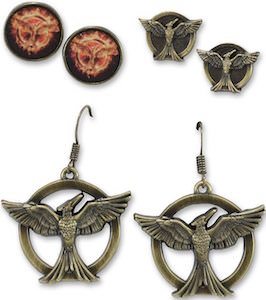 Why get one pair of Hunger Games earrings when you can have 3 in a nice set.
This set is based on The Hunger Games Mockingjay part one movie and each set of earrings have a Mockingjay.
There are two pairs of studs one shows a Mockingjay on fire and one is more the like Mockingjay pin. And then there is one dangling pair with French hooks that show the Mockingjay pin with flapping wings and it has a open look making it look real nice hanging down you ears.
Are you ready to dress your ears Hunger Games style?
If you are then come get your The Hunger Games Mockingjay Part One Earrings.