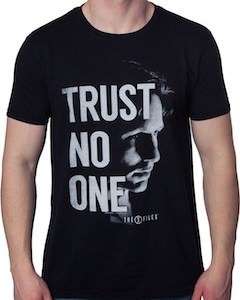 This black t-shirt shows FBI agent Fox Mulder and on top of that the worlds "Trust No One".
Of course fans of the supernatural know that this shirt is from the hit TV series The X Files and it would be great to have a t-shirt like this as it is a classic.
This X Files t-shirt is made from 100% preshrunk cotton and comes in sizes Small – 3XL.
When Mulder is on your side you never know what is gone happen and that will make life even more excising.
Get ready to remind the world about the X Files by wearing this The X Files Mulder Trust No One T-Shirt.