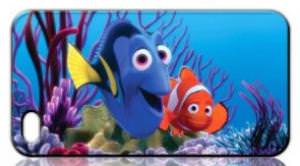 Do you need a cool and stylish way to protect your iPhone?
Check out this fun iPhone 4 and iPhone 4S case that features two characters from the animated movie Disney Pixar's Finding Nemo, find Nemo and his friend Dory the innocent blue angel fish with a very unique personality swimming together with some beautiful coral in the background.
With great quality colors and print this case will help protect from scratches and bumps, it is made to precisely fit the iPhone 4 and the iPhone 4S while leaving all ports and buttons open for use.
Have a look at the Finding Nemo Dory And Nemo iPhone 4S Case.