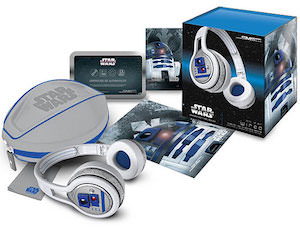 A true Star Wars fan is gone love the on ear headphones that look like R2-D2.
The headphones are made by Street by 50 and are on ear headphones. And of course this is a licensed Star Wars product.
In the box you will find the headphones that look like R2-D2 with white as the main color and it comes with a storage case that has the Star Wars logo embossed on it. And yes there is a manual as well and even a cleaning cloth, sticker and poster.
And what else you need is a cable that is removable and has a 3.5 mm plus and a 3 click microphone button.
Star Wars fans just come admire these amazing looking Star Wars Street R2-D2 Headphones.