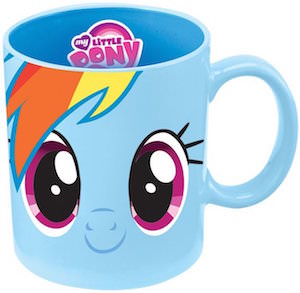 Coffee, tea or hot chocolate all need the perfect mug to drink from and if you like Rainbow Dash then this mug maybe it.
This ceramic My Little Pony mug is light blue on the outside and the insides and on the front you can see the face of Rainbow Dash complete with apart of her colorful mane and on the back it says "Rainbow Dash" complete with her cutie mark.
This Rainbow Dash mug is 12oz and is microwave and dishwasher save and comes in a colorful box to make it the perfect gift for a fan of the ponies.
Is it time for a hot drink? If so come get your own My Little Pony Rainbow Dash Ceramic Mug.