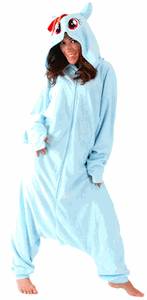 This My Little Pony costume will make people smile and stare.
It is a Kigurumi of Rainbow Dash and it is a one piece hooded pajama with Rainbow dashes hair and eye's on the hood and his wings and the cute mark on the back.
You can use this as a pajama for around the house or a costume for your next My Little Pony party.
Why wear what everyone else wears when you can be special when you where this My Little Pony sleepwear.
Come and have a better look at this My Little Pony Rainbow Dash Kigurumi Hooded Pajamas.