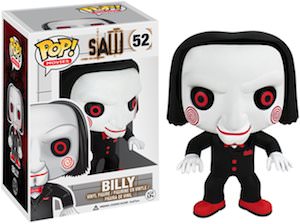 There is Billy the puppet from the Saw movies.
This time Billy is a real puppet. OK he is a Pop! Vinyl figurine made by the people of Funko.
The details of Billy are amazing and those eyes just scare me.
At 3 3/4 inch high Billy has the size as all the Pop Vinyl figurines and that makes him perfect to live in between the others in your collection.
OK maybe Billy is a bit darker in personality but that makes this Saw character different.
Billy comes in a fun display box that you can keep him in if you want or you can use him without the box and have him stare at you all day long.
Come take a peek at this Saw Billy Pop! Vinyl Figurine.