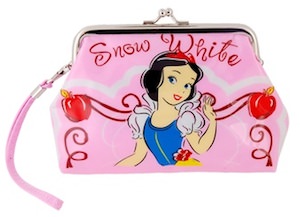 Kids will love this item.
But it is kinds difficult to describe as I am not 100% sure what to call it.
This is a little bag or a a big wallet 16.5  12 cm in nice hot pink with a picture of Princess Snow White and her name above the picture.
Kids will love to play with this and probably use it as a little purse to carry around al kind of things.
This little bag has a strap for around the wrist and it as a smart buckle closeing lock that is easy for kids and adults to open but strong enough to keep it securely closed while taking it with you.
Snow White fans are gone love this little bag and it will make a perfect gift for someone crazy about a Disney princess. And to make the deal even better, this Snow White bag comes with Free world wide shipping. You can have the perfect gift at your doorstep for less then 5 dollars.
Don't wait come quick and order your Princess Snow White Purse.