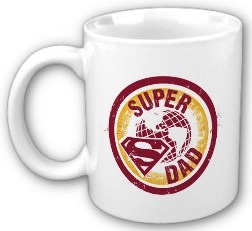 Is your dad a Super Dad?
Of course he is and maybe this is the time to tell him how you think about him.
This mug shows a round logo with the words Super Dad and a globe in the background and the Superman logo.
Maybe your dad can't fly around the world like Superman but he is still pretty amazing.
Make him enjoy his coffee in this special mug he and the world can see the message as it is printed on both sides of the mug.
And to make it even more super this mug is dishwasher and microwave safe.
There is always a moment to thank your dad, maybe a birthday or Father's day or just tomorrow.
Don't hesitate to tell your dad that he is super, go get him this Super Dad Superman Mug.