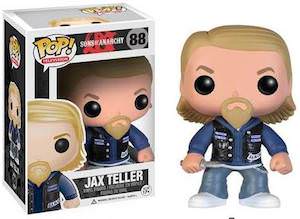 Now you can have you own little Jax from the Sons Of Anarchy TV series.
This is pop vinyl figure that is about 3.75 inch tall and has all the details you would expect from a Jax Teller figurine.
Yes he has the hair and the leather jacket and he even carries a knife.
Collecting the whole Samcro crew could be fun and just imagine Jax standing on your desk looking at you while you are working.
Or have them all staring at your from a book shelve.
These Funko figurines are really popular so make sure that you get your own Sons Of Anarchy Jax Teller Pop Vinyl Figurine.