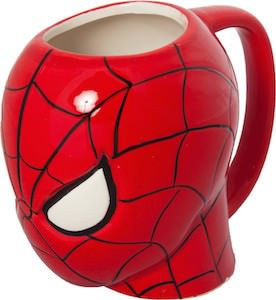 If Spider-Man is the superhero of you choice then you gone love this mug.
This mug is red but also looks like Spider-Man's head. It's a 3D mug shaped like a head with on the top of course the hole from where you drink.
A red mug like this may not be perfect for a fancy tea party but it is perfect for you morning coffee.
No everyone will know what coffee mug is yours because they know that Spider-Man is your favorite.
Use this Spider-Man mug at home or take it to work for your coffee, tea or maybe even a beer.
Come take a closer look at this Marvel Spider-Man 3D Head Mug.