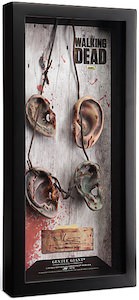 Do you want a real special The Walking Dead item?
You found it, this is a display of the famous necklace that Daryl made with ears of Walkers on them.
Of course these are not the real ears but this is a reproduction that used the real necklace.
The necklace comes in a nice display cabinet and it is made in a limited edition (1676 are made) and it comes number and with a certificate of authentication.
Only a true fan of The Walking Dead should have an item like this. The Ears are displayed in a nice wood and glass shadowbox with The Walking Dead logo on the background.
If you like to own items that most people would think are freaking and strange then you should at least look at this The Walking Dead Daryl Dixon Walker Ears Necklace Display.