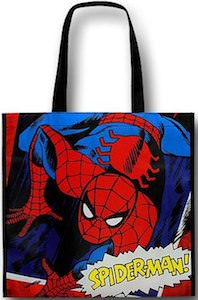 Shopping will become fun again with this Spider-Man tote bag.
And this Spider-Man tote bag is not only a fun way to shop it's also made from recycled materials.
So now you can have a recycled bag that prevent you from using more plastic bags and it has Spider-Man on it.
As you can see above the bag shows a Spider-Man piece of art and to make it better they put different pictures on each side of the bag.
With 14 x 15 inch this Spider-Man bag is great for school, work, play and of course shopping.
Lets not wait any longer, come and buy your Spider-Man Tote Bag.