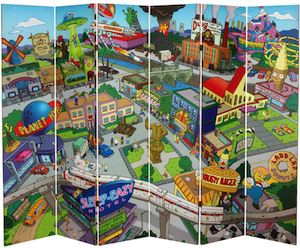 Are you looking for the perfect room divider?
If you like the Simpsons then this one is perfect. This folding screen has 6 panels and they together make a map of Springfield. You can see all kind of memories from famous episodes there of course is the church, power plant and the school but there is much more and only a true fan of the Simpson family can enjoy this.
The screen stands 6 feet tall making it a perfect screen to hide things in your room and both sides of the folding screen have the same picture so there will no longer be a boring corner in your room.
Come and have a closer look at the picture and details of this The Simpsons Spingfield Town Map Room Divider.