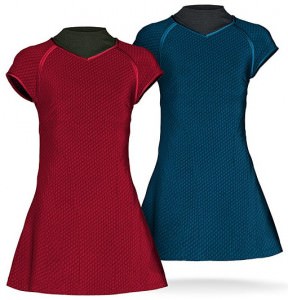 For the Star Trek women out there, it is time to boldly wear a cute, sexy, fun replica tunic dress as seen on Uhura and Dr. Carol Marcus in Star Trek: Into Darkness.
These Star Trek tunic dress replicas are as great as they look, you have a choice of the red/burgundy dress which is the (engineering/operations) which can be seen on Uhura. Or choose the navy blue (science) which is seen on Dr. Carol Marcus, both uniforms are in the Star Trek hit movie Star Trek: Into Darkness.
Available in many sizes the Star Trek tunic dresses are made to be very durable and last a long time with quality and care going into every dress.
Become a real Trekkie with the Star Trek Into Darkness Tunic Dress Replica.