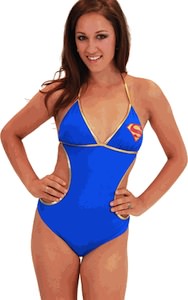 If you are looking for that one piece swimsuit that will make you enjoy swimming even more then you have to check out this Superman swimsuit.
The Superman monokini is Superman blue and has gold edges and the Superman logo on one of the cups.
If you want to be the Supergirl from the man of steel then this could do the trick.
This Superman monokini comes in a range of sizes from Small (4) – X-Large (14).
So are you planning a day at the beach? If so come and check out this Superman Monokini Swimsuit.