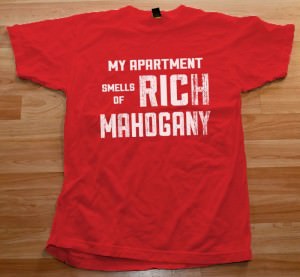 Anchorman has many quotes and many of these funny quotes come from Ron Burgundy who is played by comedic actor Will Ferrell, one really good and classic quote is "Uh, I have many leather-bound books, and my apartment smells of rich mahogany".
This t-shirt is based after this classic Anchorman Ron Burgundy quote, find in white letters the text "My Apartment Smells Of Rich Mahogany".
This t-shirt is available in a very huge variety of sizes that will range from 2XS all the way up to 5XL so every Anchorman fan can enjoy it.
Show off with the Anchorman Rich Mahogany T-Shirt.