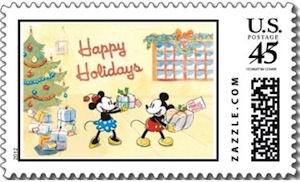 Sending holiday mail is one of those things we enjoy doing and getting.
And this year your mail can be even more fun.
Use these Christmas stamps with Mickey and Minnie Mouse to send you Christmas cards and parcels.
The stamps come in a range of values and sizes and are a valid stamp from t he United States Postal Service.
So if you want a special stamp this holiday then check out the Disney Mickey And Minnie Mouse Christmas Stamps.