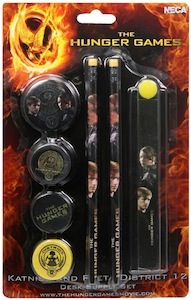 Getting ready to go back to school or the office with a fresh set of supplies?
Then you should have a look at this supply set based on Katniss and Peeta from The Hunger Games.
This set has two pencils with pictures of Katniss Everdeen and Peeta Mellark on it then there are two erasers, pencil sharpener, folding ruler and a button.
A perfect set for school and all with picture of Katniss, Peeta or District 12 on them.
So prepare for school by ordering your own The Hunger Games Katniss & Peeta District 12 Stationary Set.