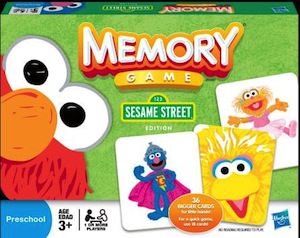 Kids love Sesame Street and with this Sesame Street memory game you can keep them entertained for hours.
Hasbro made this preschool version of their famous Memory board game. This means that the cards are bigger and strong to keep the game in tip top shape for a long time.
The Sesame Street game has 36 cards with a bunch of the Sesame Street character like Elmo and Big Bird on them and as with all the Memory games the kids have to match them.
Memory is a great game for training your kids memory and it is still fun for adults to.
Get ready to play a game of Sesame Street Memory.