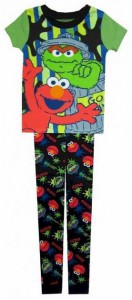 We all remember our favorite Sesame Street characters and it brings a smile to our faces. Your little one will have their own memories when they are brought up with Sesame Street in their house too, and have great pajamas to add to the memories.
Oscar the Grouch and Elmo are the stars of these pajamas. The top has Oscar in his can and Elmo is waving in a big way. The pants have a black background and has both Oscar and Elmo's faces with paint splatters and both their names written out.
These 2 piece pajamas come in sizes 2T, 3T and 4T. They are made from 100% cotton and are completely machine washable, which is great for the little spills here and there.
Sleep tight little one in your new Sesame Street Toddler 2 Piece Pajamas.