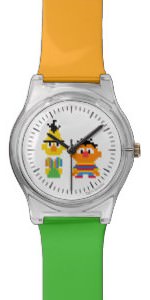 Bert and Ernie have been a staple on Sesame Street since roughly 1969. They teach us lessons on a daily basis and are such a pair that they have been putting smiles on our faces just as long.
This watch features our favorite Sesame Street friends, Bert and Ernie. The picture of the two of them in the face of the watch is created from pixels to make them look like they stepped right out of Minecraft type of game. They are so cute!
The diameter of the watch face is 1.2″ and the width of the band is .65″ and the length of the band is 9.5″. It is hand assembled and is water resistant. You can also pick different colors for the top band, bottom band, the keeper band and the face of the watch. You are sure to have a one of a kind watch.
Play a little what time is it Mr. Wolf with the Pixel Bert And Ernie Watch.