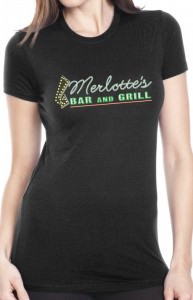 Merlotte's Bar and Grill is the favourite hangout of the eccentric characters of Bon Temp from the TV show True Blood.
You can go there for a burger and drink served by Sookie the waitress or play pool while you listen to the jukebox.
Don't forget to wear this Merlotte's Bar and Grill t-shirt every time you go out.
This high quality black t-shirt is a soft poly/cotton blend with the name "Merlotte's" written in cursive on the front and an arrow pointing down to the words "BAR AND GRILL" printed below it.
This smart True Blood t-shirt comes in men's sizes S – 4XL and women's slim fit sizes S – 2XL.
When you gather with your friends be sure to wear this True Blood Merlotte's Bar T-shirt.