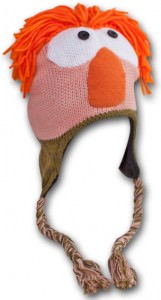 Beaker from the awsome television and movie series The Muppets is known to be a little wacky, now you too can look a little wacky with this nice and comfy Beaker beanie hat.
This Beaker beanie hat will keep your head warm on the coldest day but it will also keep you looking cool, it has two long tie strings to secure it to your head and it features Beaker's face with his awsome crazy orange hair on top.
Get your The Muppets Beaker Beanie Hat.