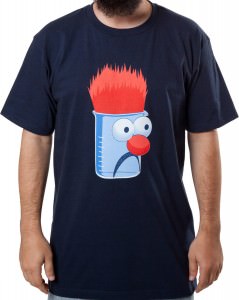 The Muppets have so many great characters, but none better than Dr. Bunsen Honeydew and his trusty assistant Beaker. His name is even the same as a piece of lab equipment. That's why this t-shirt is so fun, it is a play on words.
Take a simple lab beaker and put the Muppets Beaker's face on it and volia! It is a clear beaker with Beaker's red hair and sad face.
The sizes of this navy blue t-shirt run from S to 3XL. It is 100% cotton and it will be your new favorite screen print t-shirt for every occasion.
Get it today, your Beaker Play On Words T-Shirt.