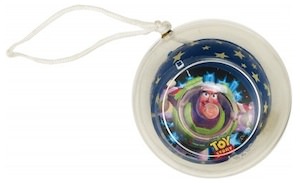 Kids love Buzz Lightyear from the Toy Story movies and now Buzz is printed on the Yo-Yo.
The kids love to try to keep the Yo-Yo going but often without success so then the parents need to try and they will have so much fun to with this Toy Story Yo-Yo.
This Yo-Yo makes a perfect party favor.
They recomend this Toy Story Yo-Yo for kids 5 years and up.
Time to tangle some rope with this Toy Story Buzz Lightyear Yo-Yo.