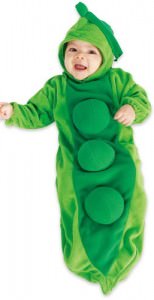 Do you want to show off your little one on Halloween or just because your child looks so cute?
You will never find a more darling costume for your baby than this adorable Peas-in-a-Pod outfit from the movie Toy Story 3.
This adorable infant costume looks just like an open pea pod with three peas inside. The sides and the back of this outfit are green and the centre front portion and the peas are a darker green. There is an attached hood with darker green "stem" and the long sleeves have an elastic wrist.
This costume sleeper comes in one size up to 9 months (22" long).
Bundle up your little one in this Baby Peas-in-a-Pod Toy Story Costume.