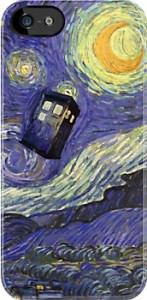 Vincent van Gogh fans will definetley know this painting called "The Starry Night", the only thing different is there is now a Tardis crossing through the skyline.
On this iPhone and iPod Touch case you will see the Tardis painted right ontop of the Van Gogh painting, with amazing details and vibrant colors this is sure to grab the attention from your fellow Doctor Who fans.
With exact measurements to fit your Apple device leaving all of the functions open this awesome Tardis Van Gogh painting print is available in these Apple devices:
iPhone 5
iPhone 4S
iPhone 4
iPhone 3GS
iPhone 3G
iPod Touch 4th generation
Doctor Who fans go and check out the Tardis Vincent Van Gogh iPhone And iPod Touch Case.