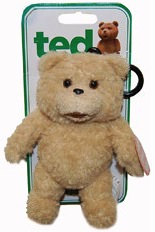 We all know Ted the bear from the Movie Ted and now you are in luck (or are you).
This is a little version of Ted and it is a bag clip that loves to hang on you backpack.
And this Ted talks just like the big one from the movie.
Ted knows 12 different phrases:
Will you take care of me for ever and ever!

I look like something you give your kid when you tell them grandma died
C'mon, I don't sound that much like Peter Griffin
That's my bad, I was sending a tweet
The Brewski run
C'mereya bastard
Good talk coach
Stick your finger in the loop of my tag
Dirty Fozzie
I didn't know you had a baby, is it alive?
 I wuv you
Okay, alright, so that's where we'll draw the line
And all of course are famouse phrases from the Ted movie that now can be with you all the time.
So are you gone take care of Ted for ever and ever? If so then come and get your Ted Talking Bag Clip.